Published: 04/02/2015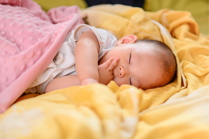 Whether the child has arrived yet or not, you can get that supremely important information you have been wondering about for weeks. You don't have to live with the stress of not knowing any longer. Here in Toronto, there are two very secure and safe ways to find out the biological parents of a child: you can bring your DNA samples into the clinic located right here in Toronto, or you can get a mail order kit and mail the test in for analysis.
You will have a great experience when you come into our Toronto clinic. The laboratory performs 10,000 DNA tests each year so you can rest assured you will be in experienced, competent hands. Appointments are easy to set over the phone, and most appointments are available for the same day or next day. We also have clinics in Sherbrooke, Beloeil, Laval, Gatineau, Quebec and Saguenay.
If you need a DNA test done but don't have the convenience of coming into one of our clinics, or if you just prefer to mail it in, we have laid out a very effective system. When the package arrives, no one will be able to tell what it is from the box in order to keep things discreet. The kit also only takes 2 to 4 business days to reach any where in Canada.
Whether you decide to come in or mail in your sample, you can rest assured that DNA Force has your best interest at heart. The results are available 5 to 8 business days after the laboratory receives the samples you give us. We will also keep all communications, tests and results confidential with our clients. We take your privacy very seriously. It's up to you to take the first step. You don't have to spend any more time not knowing who the father is. Call our toll free number at 1.800.830.6306 and get the answers you're looking for.